Winnie The Pooh Vinyl wallpaper stickers are available in several beautiful designs. These decals come in several different themes, sizes, and colours. The styles range from Winnie The Pooh Wall sticker for children to the Winnie The Pooh Christmas decal for children. There are also styles suitable for use on vehicles, like cars and trucks.
It is effortless to apply these decals to any smooth surface or wall. They do not need to be removed once they have been applied. For a great looking sticker go for Winnie The Pooh Wall decal or Winnie The Pooh Kids Wall sticker. This particular theme is prevalent among nursery decorators.
The Winnie The Pooh Vinyl wall decals offer many benefits to the consumer. First, since it is a vinyl decal, it will not crack, peel, rub off or otherwise damage your wall. Second, since it is a vinyl decal, it will not fade or get misshapen like some other wall stickers may do overtime.
Winnie The Pooh wall decals are very popular with nursery decorating parents and caregivers. They can be used as lots of things. To start with, they can be used as lots of different Winnie The Pooh themed scrapbooking pages. These can be used as place card holders for a baby's room or just a fun way to embellish the walls. You can also use them as borders around a nursery picture frame or on the shelves in the room. These vinyl wall decals really add life to a lifeless room.
If you are looking for a great way to brighten up an empty wall, you may want to consider Winnie The Pooh stickers. These are so much fun and cute that you will find yourself wanting to decorate your house in Winnie The Pooh style. In fact, you can even use these stickers to decorate any room in your home. Since these are so cuddly, your child will love using them to play with.
If Winnie The Pooh has left you feeling satisfied, you can take your love of Winnie The Pooh to the next level by adding these vinyl wall decals to any room of your home. Winnie The Pooh is such a unique and colourful theme for a child's room that it will continue to bring joy into your child's life long after being grown. Plus these wall decals are so easy to apply that your child can do it themselves—no wonder why Winnie The Pooh has become so popular.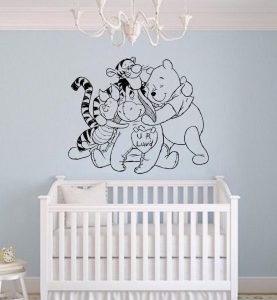 All of our vinyl is designed and cut at our premises in Kent, England. Every vinyl decal we make we put a lot of care and effort into it. The vinyl we use is specially built with a lovely matt finish for wall application. This minimizes light reflection glare that can be very noticeable on gloss vinyl, giving you a beautiful paint-like effect on your chosen surface. After we have cut the vinyl, before applying the application tape, it is then weeded by hand and cut down to size, to be shipped straight to your door in one of our recycled cardboard tubes.
Read More: Winnie The Pooh Car Stickers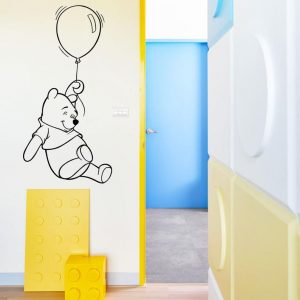 Welcome to the CENCAR SIGN Etsy Shop where you can find all sorts of vinyl cut stickers, designed and manufactured to the highest standards. To suit different applications, vinyl is available in a variety of colours and finishes. Two quality options are available: 3-5 years and 5-7 years. It communicates life expectancy. We take advantage of higher efficiency. The sheets of vinyl are made in a way close to that of pastry. They begin as a "lump" rolled up a thousand times until it is as thin as paper.

Decorate the windows of your desktop, car, notebooks, walls, and so much more! Produced with a permanent acrylic adhesive using high-quality gloss vinyl. Supplied with full easy to follow instructions for application.

Half star Wallart presents Winnie the Pooh Wall Decals/Vinyl Stickers. These decals give the walls the look of a custom paint job that is completely beautiful in the children's room. You may also add the decals to your car, kitchen, or even outside in your bedroom, office, children's room, as the material is waterproof. Easily and stunningly decorate your home with these original wall vinyl decals. High-quality vinyl will make your application easy or remove them whenever you want and will last for a long time.

We got some awesome stickers for Winnie the Pooh Vinyl. These can be applied to a notebook, or even just to the back of your car, to spice it up. These stickers are stacked, which ensures that you get the perfect colour with each one, and that colour will stay as long as you want. The best part, you get to choose out of any of the stickers within the Winnie the Pooh family! If you don't see one of the characters, you'd like, please message me. I have got a load more!